Student Success Initiatives

Florida State University has a long history of providing recognition and guidance for outstanding students through its honors program. Relaunched in 2018, the Honors Experience Program at Florida State identifies intellectually curious students who have the potential, dedication and drive to create change and provides them with holistic development through enriching experience both in and beyond the classroom. Simply put, the honors program develops students who are scholars, leaders, innovators and lifelong learners.
In addition to offering a cutting-edge interdisciplinary curriculum focused on contemporary themes and global challenges, the honors program provides students a close community of not only other honors students but also mentorship with faculty, alumni and community members beyond FSU. These experiences not only foster higher-level thinking as a foundation for future leadership and academic success but also provide for a well-rounded student experience. Our honors students are leaders in many university organizations, they win national and international awards, and they volunteer in the local and global community which, in turn, brings distinction to Florida State University.
Through your support, we can offer more students access to each impactful event, expand the scope and diversity of speakers and experiences, and provide financial support for students to engage in honors program field trips in the U.S. and globally.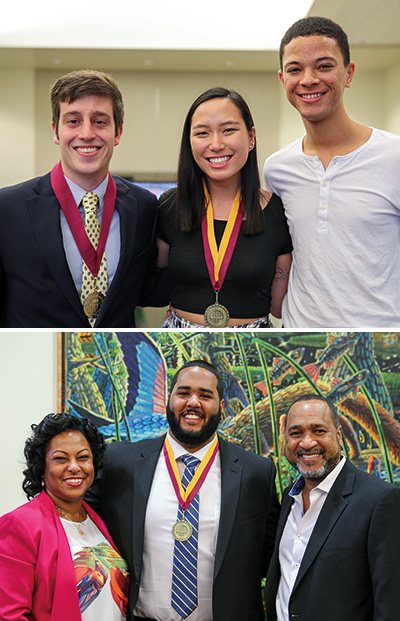 ---
FSU awards honors medallions to university's high achievers
Tallahassee Democrat, Published May 10, 2021
Florida State University awarded honors medallions to 330 high-achieving graduates during a virtual ceremony on Thursday, April 22.
The FSU Honors Program supports the efforts and talents of the university's most intellectually curious students who have the potential, dedication and drive for creating change.
FSU's Friends of Honors, Scholars, and Fellows group inspires grads
Tallahassee Democrat, Published April 27, 2020
A group of Florida State University alumni nationwide are doing their part to keep the Class of 2020 uplifted.
Members of Friends of Honors, Scholars, and Fellows have been posting inspirational messages on the group's Facebook page since the university announced live graduation ceremonies wouldn't be held this spring. […]
FSU goes the 'virtual' extra mile to recruit high-achieving students
Published: April 14, 2020
While the novel coronavirus is causing disruption for enrolled college students, the pandemic is also affecting how prospective students interact with universities. The transition to a remote campus has drastically impacted how the Florida State University Honors Program recruits potential students. Instead of bringing future students to campus, program staff have been hard at work […]