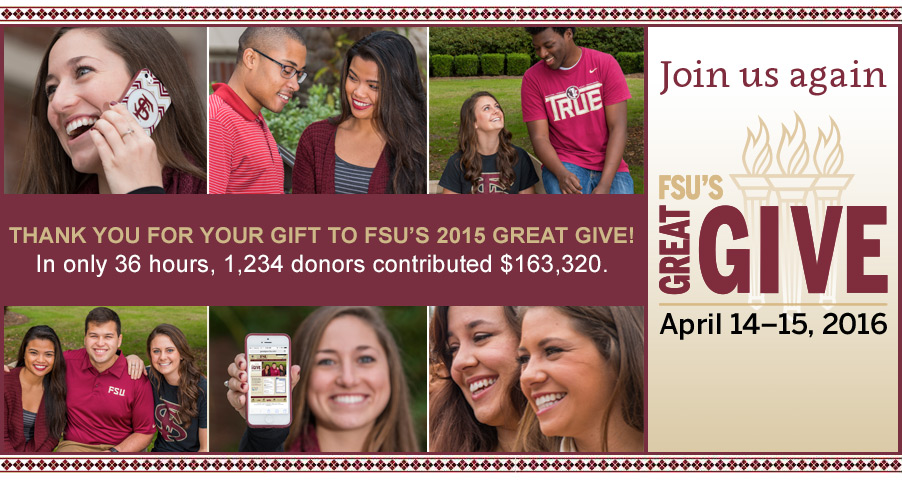 FSU's Great Give is a powerful example of our supporters' generosity. When the University community rallies to support our students and academic programs, great things happen. In only 36 hours, 1,234 donors contributed $163,320.
We are excited to share these outstanding project highlights:
The Division of Student Affairs' Families Supporting Students project received the largest number of unique gifts at 286, followed by the College of Music's Marching Chief Travel Endowment project at 247 and University Libraries at 158.




Seven projects exceeded their funding goals:

The Ringling raised 215 percent of its goal.

FSU Panama City raised 205 percent of its goal.

The College of Education raised 179 percent of its goal.

The College of Arts & Sciences raised 177 percent of its goal.

The College of Law raised 164 percent of its goal.

University Libraries raised 163 percent of its goal.

The Student Veterans Center raised 152 of its goal.
Your support of FSU can be seen beyond our numbers. When Florida State excels, our students' lives are enriched through the growth of academic scholarships, the development of programs that improve retention and graduation rates and the strength of learning environments. FSU faculty gain greater access to resources that enhance their teaching and allow them to conduct groundbreaking research. Alumni receive the increased prestige and value of a Florida State degree, which will continue to increase as we climb in the national rankings.
If you were unable to make a gift during FSU's Great Give, I hope you will consider making an online contribution by visiting foundation.fsu.edu/gift or by calling (850) 644-6000.
Thank you to all students, alumni, parents, faculty, staff and friends of Florida State who helped make FSU's Great Give a tremendous success!